Windows Autopilot: Enrollment Status Page in Microsoft Intune
The Windows Autopilot, which was initially introduced by the Windows 10 Fall Creators Update (1703), enables IT departments to install a Windows 10 client for the staff's usage. With Windows Autopilot users are able to arrange their computing devices just by a few clicks and administrators have no need to create custom Windows images any longer.
Some new features of the Windows Autopilot were added to Intune by the Windows 10 Update (1803).
In this article I will introduce the Windows Autopilot's new feature Enrollment Status Page (Preview) in the Azure portal of Microsoft Intune. Furthermore, I will describe how it can be configured.
I will start with the Windows Autopilot: Enrollment Status Page (Preview): The enrollment status page can be configured in the Azure portal with the following steps Microsoft Intune > Device enrollment> Windows enrollment > Enrollment Status Page (Preview).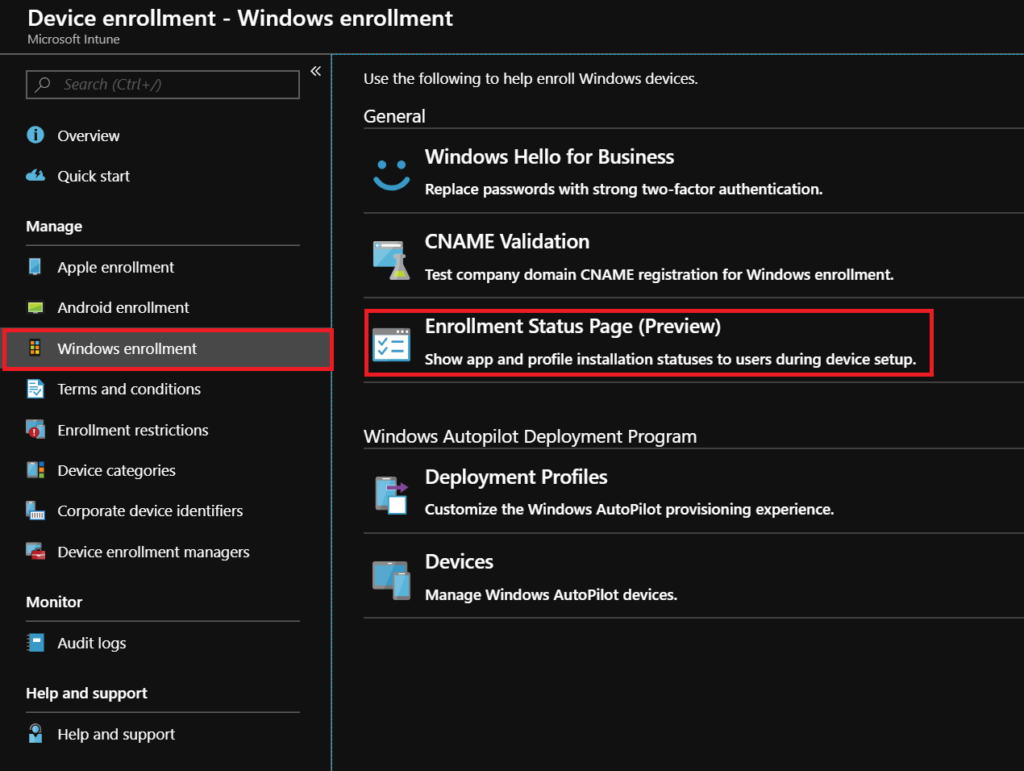 The Windows Autopilot Enrollment Status Page provides users the opportunity to monitor the status of the Windows 10 Deployment and to perform certain actions. The user is able to block access, decide which actions are executed in case of error, and to define when error messages are being displayed, as well as to capture error logs.
In the settings the user can determine the properties of the status page:
The enrollment page shows us, that the Windows Autopilot deployment profile is being used for the Windows 10 client and provided with the company's branding. As soon as the user enters the Azure AD-username and the password after the first OOBE, the Enrollment Status Page starts.
The following screenshot shows the status of the Windows 10 registration as well as a thorough description of what will precisely be checked in the respective areas.
When it is finished the device is ready to use with the settings and installed apps.
In case there are problems occurring with the registration of the device, and if the option "Allow users to reset device if installation error occurs" is marked with "Yes" in the setting of the status of registration, there is a possibility to reset the device.
If there are any problems occuring with the installation of profiles or applications, you can either reset the application on the enrollment page or try again.